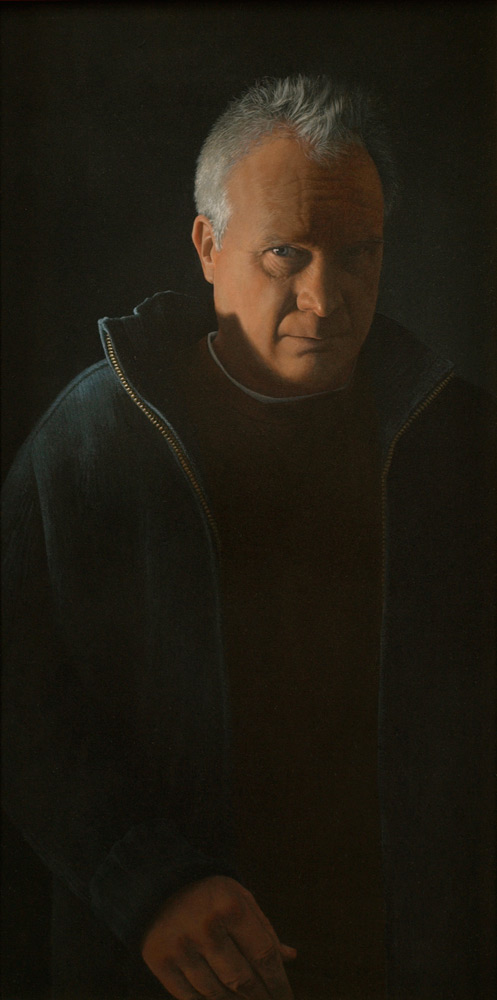 C.V./Biography
David Gleeson B.A., M.A.
David Gleeson has exhibited in numerous solo and group shows in London, elsewhere in the UK, the USA and Johannesburg. He has won prizes in twenty-eight competitions including the 'Discerning Eye' and 'Hunting Art'. In 2011 he was shortlisted for The Sunday Times Watercolour Competition and was 'Highly Commended', won 'Best Drawing' at the SGFA Open 2016 and 'The Anthony J Lester Art Critic Award' at the R.I. Open 2019 .
He has work in Chester City Collection, Staffordshire County Council Collection, Keele University Collection and Aberystwyth University Collection and a Stained Glass Window dedicated by H.R.H. Queen Elizabeth II in Saint Mary's Church, Stafford, 2006.
His work has been shown at the National Portrait Gallery and the Mall Galleries.
solo exhibitions
Thompson's Gallery, Aldeburgh 2017
Wimbledon Fine Art, London 2017
Weston Park, Granary Gallery, Shropshire 2015
Wimbledon Fine Art, London 2013
'The Art of Growing', Brewhouse Arts Centre, Burton upon Trent 2011
'DIVIDED SELF', Self Portraits 1977 - 2008, RBSA Gallery 2008
'STILL LIFES & STORIES',Thompson's Gallery, London September 2007
's t i l l , p r e s e n t ', Keele University Gallery 2004
'The Really Real', Hanley Museum & Art Gallery 2003
'Museum Pieces', Cambridge Contemporary Art 1999
Grosvenor Gallery, London 1998
Artist in Residence & Exhibition, Shugborough, Stafford 1997
'Silences and Virtual Realities', Shire Hall Gallery, Stafford 1996
Jonathan Cooper Park Walk Gallery, London 1991
Stafford Art Gallery 1991
awards/prizes
'The Anthony J Lester Art Critic Award' at the R.I. Open, Mall Galleries, London 2019
SGFA Open Drawing 16, Menier Gallery, London, 'Best Drawing' 2016
'The Discerning Eye', Mall Galleries, London, Prizewinner 1997 / 2001 / 2002 / 2006
NEAC Annual, Mall Galleries, London, Prizewinner 2002
RWS/Sunday Times Watercolour Competition, London, Shortlisted Artist, Highly Commended 2011
R.B.S.A. Open All Media, Prizewinner 2006/2007/2008
Alumni Exhibition, Aberystwyth University, Prizewinner 2007
Grosvenor Museum Open Art Competition, Chester, Prizewinner 1999 / 2001
'Hunting Art Prizes', Royal College of Art, London, Prizewinner 2000
Stoke Open, Prizewinner 2000 / 2008
Three Counties Open, Keele University Gallery, Prizewinner 1999 / 2011
Staffordshire Open , Prizewinner, 1993 / 1994 / 1995 / 1996 / 1999 / 2000 / 2009 / 2012
MidArt Annual Open, Dudley Art Gallery, Prizewinner 1998
'Regeneration', Walker Art Gallery, Liverpool, Prizewinner 1984
selected group exhibitions
Royal Academy Summer Exhibition 1986/1988/1990/1993/1996/1997/2000/2001/2006/2007/2008
Sunday Times Watercolour Competition, London/Tour 1997/1999/2002/2006/2011/2012
Hunting Art Prizes, Royal College of Art & Tour 1988/1995/1998/2000
Lynn Painter-Stainers Prize 2009
'The Discerning Eye' 1997 / 1999 / 2001 / 2002 / 2003 / 2004 / 2006 / SELECTED ARTIST 2008 / 2011
NEAC Annual, Mall Galleries, London 2002/2012
Ruth Borchard Self-Portrait Competition, King's Place Gallery, London 2011
Laing Seascape & Landscape Competition, Mall Galleries, London 2002
B.P. Portrait Award, National Portrait Gallery 1990
Royal Society of Portrait Painters Annual, Mall Galleries 1990 /2019
R.I. Royal Institute of Painters in Water Colours Annual, Mall Galleries 2019